New and X
Change

Remanufactured DEUTZ Diesel Engines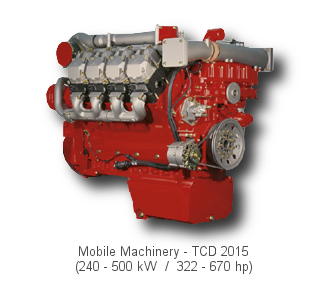 (Deutz marketing literature...)
DEUTZ diesel engines have been providing innovative solutions for more than 140 years. Gensets, industrial applications, marine applications and mining applications, DEUTZ is meeting your increased power demands while conforming to government requirements for environmental friendly engines, thanks to state of the art technology built into every DEUTZ engine.
Our wide range of power generating solutions, combined with world-wide parts availability and support, make DEUTZ engines an excellent selection in genset equipment. From 10 to 600 HP our industrial engines supply the power you demand.
If you want to know what is behind the DEUTZ brand, there are people all over the world who can tell you. Wherever DEUTZ engines are in use, there is one thing our customers can be sure of: you can depend on a DEUTZ. No matter what the demands. No matter where in the world. The name DEUTZ has a firm place in the world of machine manufacturers and machine operators. And has had for over 130 years.
The reputation for reliability and durability of DEUTZ engines is the sum total of careful design, development, testing and manufacturing. When you purchase "Genuine" DEUTZ, your getting parts designed to strict specifications that guarantee dependable engine performance year after year.
DEUTZ engines for mining stand up to rugged environments and lessen work down time. To learn more about Deutz diesel engines please follow the below links to read official Deutz Diesel Engine data sheets.
(Table contains partial list that includes most new Detuz diesel engines and some older engines.)
* Engine no longer in production. Available through Deutz X

Change

remanufacture program.
** Engine Parts Unlimited, Inc. does not sell Deutz engines for automotive and marine applications.
DEUTZ X
Change

REMANUFACTURED DIESEL ENGINES
A Deutz XChange remanufactured engine (sometimes called a "reman") is better than a typical rebuilt engine. These engines meet or exceed original factory specifications, and are built, tested, and certified directly by Deutz and come with a Deutz warranty. Remanufactured Deutz engines can be an economical alternative to buying a completely new engine.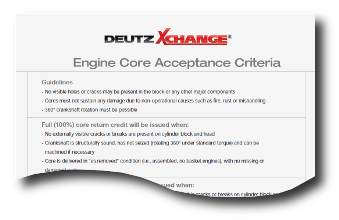 What is a Deutz XChange core credit? After you have purchased your remanufactured engine and have received it, Deutz will collect your old Deutz engine core. If the core is approved for use in the XChange remanufacturing program, you will be issued a credit.
Many remanufactured engines are available immediately. However, the process can take up to 10 weeks depending on your type of engine and the specifications you require.
In rare instances, when a suitable core is not available (a situation that is more common with older Deutz engines), we here at Engine Parts Unlimited, Inc. will work with you to find an equivalent engine type that will fit your application.
Deutz XChange: Engine Core Acceptance Criteria: VIEW DOCUMENT
STEP 1:
Please follow the below instructions prior to calling about a new or replacement Deutz Engine. If your calling for engines other than Deutz go to step 2.
Locate the Engine Information plate and record the Model Number and Serial Number of your engine. If you are ordering or replacing more than one Deutz engine, please record the information for each engine.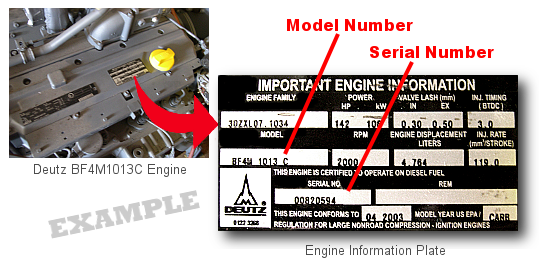 If you are having difficulty finding the Engine Information plate on your engine, then try using this Deutz Engine Serial Number Location guide: VIEW DOCUMENT
---
STEP 2:
Call us...

At any time during the automated greeting message press 3 and you will be connected to our New Engines Department.