New and X
Change

Remanufactured Genuine DEUTZ Parts

PART NUMBER 30-0552 IS A GENUINE DEUTZ PART

EPU CAN GET OR HAS THIS PART IN STOCK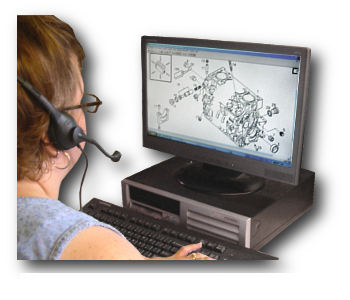 Our trained and experienced sales staff are ready to assist you with your parts order. We have over 20 years of experience selling Genuine Deutz Parts; We can help you find your parts and get them to you fast!
Our warehouses are stocked with a large inventory of New and XChange Remanufactured Deutz parts. If we do not have your part in stock, that's not a problem, we can locate just about any Genuine Deutz Part using our extensive supply network. If you have an older engine and parts are no longer available, we might have it. We also have a warehouse full of good, used, Genuine Deutz Parts.
We ship domestically and internationally to most locations, and we track each package should you call to get a status update on an existing order. In addition to new and used Deutz parts, we also sell parts for Kubota and other brand name diesel engines. However, Our Specialty Is Deutz!

STEP 1:
Please follow the below instructions prior to calling about Deutz Parts. If your calling for parts other than Deutz go to step 2.
Locate the Engine Information plate and record the Model Number and Serial Number of your engine. If you are ordering parts for more than one Deutz engine, please record the information for each engine.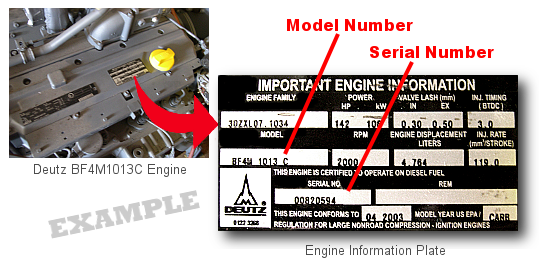 If you are having difficulty finding the Engine Information plate on your engine, then try using this Deutz Engine Serial Number Location guide: VIEW DOCUMENT
---
STEP 2:
Call us...

At any time during the automated greeting message press 1 and you will be connected to our Parts, Tools and Manuals Department.